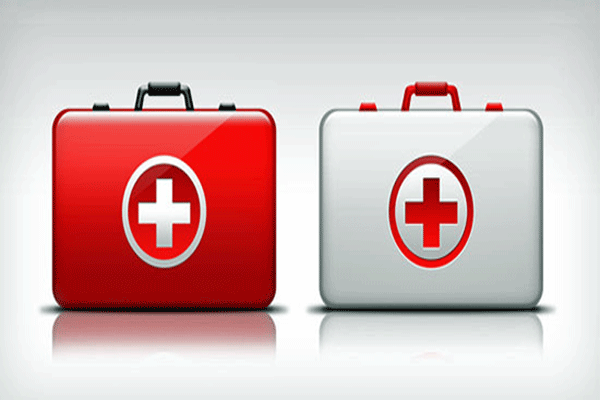 Why First Aid Is The Most Important Course A Massage Therapist Can Take
"First Aid! First Aid!"
I've never heard so much distress in a man's voice.
He was calling from the filing room (it's where all the saws and blades are sharpened in a sawmill).
My heart sunk.
My mind raced with horrific images of what could be happening.
It was my responsibility to deal with it. Every employee looked at me as the expert to deal with these types of emergencies.
I was so scared to take responsibility.
After only a two week course, I was responsible for the health and safety of this man and 300 other employees in a sawmill. At any moment someone could be seriously injured and I was the guy relied on to fix the problem.
I raced through the mill and made it to the emergency scene.  As I rounded the corner I saw my friend laying on the floor.
For a second I froze, then all that First Aid training came back to me.
Thank God, everything was going to be okay.
First Aid Is Valuable Everywhere
As my career grew I got more involved in First Aid and joined the fire dept. Now I was one of the ones responding when the general public needed more help.
I was scared about the first time that pager would go off and I'd be responding to an emergency. But again, I would have senior people around to help  show me the ropes.
When the mill closed I decided it was time to go back to school for a better more stable career. I did some aptitude testing to see what would come up and Massage Therapy was one of the things listed. I jumped in with both feet and registered later that week.
While in college I was fortunate enough to start volunteering with the hockey team I still work with. One of the things that got me in with that team, was my experience and history working as a First Responder at the mill and fire dept.
Towards the end of my Massage College education, my fire chief asked if I would take the training to be a first responder instructor.
Of course!
Now as part of my career I'm fortunate to teach first aid to Massage students, Athletic Therapists and Registered Massage Therapist's around the city.
Why First Aid Is Important
Recently the College of Massage Therapist's of British Columbia made it mandatory for Registered Massage Therapist's in BC to be certified in Standard First Aid.
I often disagree with some things the College does but I love this ruling. Here's why.
1. 

Your Patients Safety Determines Your Success.
Whether working in an industrial environment or at an emergency scene, the rule is the same as in a clinical setting.
Above anything else, your and your patients safety should be the number one priority.
Throughout professional development courses in college we learned so many things about making the clinic space a safe environment. Proper draping, boundaries, confidentiality, limb handling, professional attire and demeanour. This safe environment goes past just treating in a professional manner and respecting boundaries.
Within our code of ethical conduct it states that a registrant shall:
Act in the best interests of the patient

Use his/her knowledge and skill to improve the health and well-being of others;
Providing a safe place also means being prepared for the unexpected.
If someone is going through an emergency it is always scary. When a patient come to see you, you are the medical professional, patients know you have significant knowledge about the human body. They are depending on you to help resolve whatever issue they are having that day. One of those issues could be a stroke, a heart attack, an allergic reaction. YOU are their trusted medical person that should be able to help them.
I just looked at our clinic and one day this week saw 27 people come into the clinic. The odds are stacked against us that we may face an emergency one day. Granted you may be lucky and never see anything happen within your clinic, but why take that chance?
Don't let your clinic be a statistic.
Provide each of your patients with as safe an environment as possible.
2. 

A First Aid Certification Improves Your Credibility.
Recently there was some anger when it was made mandatory for some Massage Therapists to have their Standard First Aid certificate to maintain their license. It was called into question since it's not mandatory for Chiropractors, Physiotherapists and some other healthcare professionals.
This is a good thing! Massage as a profession has been working to be more recognized within healthcare, being prepared to help patients in a state of emergency will only help solidify us as true healthcare providers.
We are privileged to see most  patients on a regular basis.
I know most Therapist's have patients who make Massage part of their monthly and sometimes weekly routine. We see patients more often than most see their doctor.
As frontline healthcare professionals we need to have the ability to recognize when something is going wrong with patients in our clinic.
Being able to recognize a heart attack, stroke, breathing issue or any number of various medical emergencies proves our worth, not only to patients but to other practitioners within healthcare.
3. 

Being Unprepared Costs Money.
I have responded to hundreds of First Response calls over the years but that story at the beginning stands out.
It was ten years ago and I remember it like it was yesterday.
I was coming on shift at 5am and it happened.
I didn't have any of my gear with me yet and there was a traumatic injury in progress.
I showed up to work unprepared that day.
This poor man was having a seizure surrounded by instruments that were sharp enough to turn logs into sawdust.
Although everything turned out fine, I will never forget the feeling of rushing to the scene unsure of what I was going to do without my proper equipment.  
There is nothing worse than seeing someone in distress and not being sure how to handle it. Everyday a therapist probably see's five to six patients, sometimes more. That's five to six times we need to be prepared to help should something go wrong.
I know most people take their first aid course, put the text-book on the shelf, scramble three years later when their certification expires, then groan because they have to take that damn first aid course AGAIN. I am begging you, review that book every once in a while. Even hold a little practice once in a while in your clinic to stay on top of things.
Don't allow three years to go by without doing at least some review of protocols, signs and symptoms or techniques.
If you're subscribing to this blog, I'll do my best to make sure you're getting a regular review of how to handle emergencies in your clinic.
4. 

You Will Be Required To Know First Aid Soon.
More and more Professional Practice Groups, Sport Massage and special needs environments are requiring Massage Therapist's to have a higher level of certification when it comes to First Aid.
Advancing to a First Responder Certification is starting to become the norm if these are the types of specialties you want to get into (yes I know, we can't say we specialize in something). In those cases, the groups or organizations recognize the need to give a higher level of patient care should something happen to someone on your team or within that environment.
Working in a sport environment it is often a requirement by leagues to have a dedicated number of First Responders at each game to provide emergency care for the home team and visiting team should a medical emergency or injury take place. In situations like this if you want to be on the medical and therapy crew for a team, you don't have a choice but to advance your first aid training.
5. 

First Aid Will Be Mandatory For All Clinics.
You also owe it to your fellow practitioners.
At any one time in an average clinic there could be a couple of Massage Therapists, Acupuncturists, Chiropractors and Physiotherapists all working in one space.
In any other workplace Occupational Health and Safety would deem that at least one employee be trained in first aid to provide a safe work environment for all employees on site. Because most clinics have people working there that are considered sub-contractors the same rules don't apply. However OSHA puts those rules in place for a reason, and its usually because someone was injured and uncared for or there was a fatality that led to that ruling.
According to WCB regulations your clinic may not be meeting standard regulations that are put on employers. Most clinics probably get around this because of the clause where each therapist is a contractor and not an employee, but the regulation states:
Where a workplace creates a low risk of injury that is more than 20 minutes surface travel time away from a hospital

2-5 employees (workers) there must be a standard first aid kit on site

6-30 employees (workers) there must be a standard first aid kit and someone trained in Level 1 first aid.

Where a workplace creates a low risk of injury and is 20 minutes or less surface travel time from a hospital

2-10 employees (workers) there must be a standard first aid kit on site

11-50 employees (workers) there must be a standard first aid kit and someone trained to a Level 1 first aid.
I don't know if this could ever be enforced because of that contractor clause, but its important to know that these regulations are in place for a reason.
Companies like WCB don't have a think tank of smart guys sitting around thinking things up just in case something should happen. Most regulations are in place because something happened that made laws change to prevent the same accident or occurrence from happening again.
The regulations of making sure someone is trained in first aid to cover a certain number of people is there as a protection for the people on any work site. In the case where all the therapists are trained in first aid, there isn't a need to designate one person as the "attendant" but if you wanted you could just look to whoever has the most experience in that regard.
Some of us spend more time with our co-workers than we do with our families and friends. Could you handle it if something were to happen to one of them and you couldn't deal with it?
Latest posts by Jamie Johnston
(see all)
http://themtdc.com/wp-content/uploads/First-aid-Cases_edited-2.gif
400
600
Jamie Johnston
http://themtdc.com/wp-content/uploads/logo.svg
Jamie Johnston
2015-05-05 02:29:22
2020-08-20 12:22:40
Why First Aid Is The Most Important Course A Massage Therapist Can Take